Testimonials/Reviews and Comments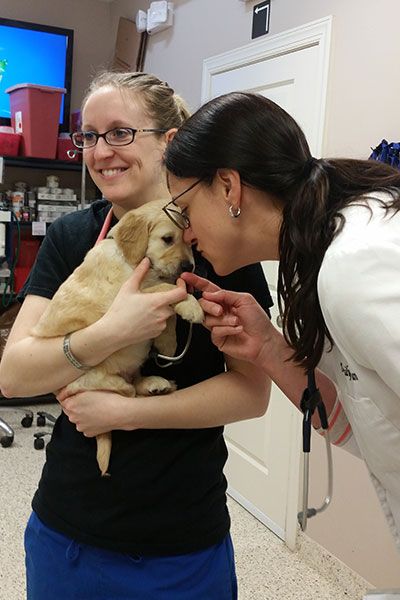 See what others had to say about their experience with Lakeside!
"Can I just say you are amazing!"
- Allie Anderson
"If Rascal could speak we know he would say: Visit Lakeside Vet where you always get '4 paws Treatment' from reliable,courteous professionals"
-The Herrington Family
"I love this place, very friendly staff."
-Ella Herion
"I am very satisfied with every aspect of care I got for Buddy. I thank you for the loving care you give him."
-Phyllis Sandefur
"You guys were fantastic! Even though I didn't have an appointment you took us right back.Everyone explained options,expenses, and proposed treatment plans. I really appreciated how disgnostic tools were used judiciously without needless costs. Thank you!"
-Jessica Roberts
"It's a great place. Very clean and inviting. The staff were awesome."
-Peggy Jo Smith
"Great staff, nice and clean office. Vet and tech were wonderful with our puppy! I would definitely recommend this veterinarian."
-Sybil Mazure
"Dr. Corpuz and the staff are the most amazing, caring and genuine people. I have had pets for over 26 years and have been all over the world and this place is by far the best!"
-Tracy Blazina
"Dr. Corpuz is amazing! You can see the love she has for animals in her eyes. Our kitty is WELL known at lakeside and I could never thank them enough for the care he always received. Dr. Corpuz was always very patient and took her time to figure out what was going on with our fur babies. All the girls in the office are always friendly and nice. Sadly we had to move but I will always be grateful for the care our boy received."
-Kristin Baca
"The staff here is so loving. Eases my mind knowing my fur baby's best interest is at heart."
-Cyndi Merrifeild
"Absolutely love this vet. They are always friendly and helpful and take amazing care of all my animals. They really care about your pet's well being. Would highly recommend to anyone looking for a vet in this area."
-Kimberly Dodd


"I can't say enough about this amazing staff!! Dr. Corpuz has been with us through the loss of our furry family members to the birth of our first furry grandbabies. I love, love, love the care we have received and couldn't ask for a more compassionate and caring doctor!!! Thank you all so much!!!"
-Dena Hains

"I have used Dr's Corpuz and Barret since they opened!!! Love this place and so do my fur babies!!!"
-Jen Sawmiller

"Lakeside always takes wonderful care of my cat and provides quality service at reasonable prices. Very conveniently located, with a friendly staff!"
-Rebecca Mickelson

"As I closed the last chapter in LUCKY's life, Dr. Emily and the entire staff at Lakeside Animal Hospital showed kindness, patience and most of all, sincerity with his needs and comfort to the end. Thank you all for your efforts, thoughts, kind words and prayers."
-Warren Andries

"I live right near Lakeside Animal Hospital and I am thrilled to have them take care of my dogs medical needs. From the minute you step into the office, they are always professional. They genuinely do care for the animals and us as owners too.I have taken each of my 3 dogs there and the diagnosis's were right on target and my dogs didn't have any further issuesI am thrilled to be one of their clients and my dogs are all the better for it."
-Cathi Sadocha

"The staff here are amazing. They are patient and welcoming. I love taking my fur babies here because i know they are getting the best care possible. Plus they break information down to make sure all the information is understood and they take time to focus on you and you only. I highly recommend them."
-Corrie Brock

"This place is amazing! We are new to the area and they have been outstanding. My dog had swelling and they didn't have an appointment available. They told us to come in and be seen. We walked out without an expensive bill and a vet who cares more about the animals than anything! Love this place!"
-Danielle Marie

"Took our 6wk old Chihuahua to Lakeside today & they were all so nice & professional! They treated our little man so good & answered any & all questions I had! I would recommend them to anyone!"
-Micelle Yonts

"Great clinic! Very knowledgeable and friendly staff. I'll stay with Lakeside until I leave Fort Bragg!"
-William Mullins

"I can't say enough good things about this place. The people are wonderful...from the moment you walk into the door until you walk out, from receptionist to doctor. Just totally AWESOME!"
-Lisa Bullard

Feel free to send us your review. Use the form below and share your thoughts with us. We'll appreciate your feedback.